We're introducing a new piece of content for your enjoyment: an author spotlight. We're really interested in what makes kids interested in the books they love, but those stories come from authors and illustrators (or author/illustrators). We're taking this moment to appreciate who these authors are and what they do.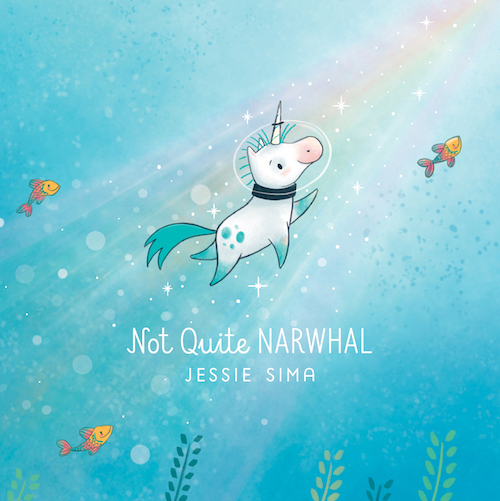 For our first author spotlight we're shining that butterfly magic on Jessie Sima, author and illustrator of Not Quite Narwhal, which was reviewed by our little Book Butterfly Hazel. (In case you missed it, her review is here.)  There are too many things to love about this book; the colors, the light and airy feel, the humor, and the compassion for the main character within it. We all deal with feeling out of place at one time or another. It's real, it's human, and it's not restricted to one age range. We have a choice in how we look at that discomfort, and how great is it that the voice within this book tells you 'it's okay – maybe consider having a party with rainbow ice cream, floaties, and lots of pointy horns'?  We're given permission to enjoy being unique, being not quite one thing or another, and to feel happy when the worlds come together.
When we looked for information on Jessie Sima, the results were colorful and heartfelt. Jessie pursued art and storytelling through a number of paths, and wasn't just born with a book deal (wouldn't that be something?).
It took work, dedication, and an idea. Jessie apparently had Not Quite Narwhal as a concept tucked away for a number of years before finalizing and gifting it to the world. As an aspiring author, your host can empathize with the journeys stories take. As a reader, the words float off the page and into your mind (ideally) with ease, but it takes a lot of time, energy, tears (or maybe that's just your host?), drafts (times a million), and
persistence.
The best part of Jessie Sima's author profile is that she often wears a unicorn horn. Let us rejoice in this fact. It's so easy to take everything so seriously, but taking a deep breath, putting on a unicorn horn and smiling in the moment is something we can all do more often. Power to you Jessie Sima, we can't wait to read more of your books.
Sources of information:
Author Page  – grab all her social links and other published book links here!